I am very happy to host Meryem Ghalib from Casablanca. Meryem is a fashion designer who believes in the transformational power of fashion and its influence on the expression of cultural identity.
Joanna: Our "passion for fashion", and above all, our interest in its cultural aspects united us immediately when we met at an intercultural conference "The Role of the Artist in Processes of Transformation – Conference on Cultural Policy and Sustainable Development" in Wolfenbüttel led us to a deeper conversation.
Meryem, what is your view on the role of fashion in co-creating cultural identity? "How can it contribute to the creation of cultural identity?"
Meryem: I advocate that fashion not only makes profit but also gives a more diverse presentation of the existing cultures. Modernity and tradition alike have a huge impact on fashion and in Morocco you can see a great change in perception. In the past, fashion branded the Moroccan Kaftan, which is a traditional dress of Jewish origin and hence it dominated the cultural identity. It literally dominated the Moroccan identity. Later, people started to prefer modern fashion, directly imported from Western Europe. Recently, with the democratization of the fashion content, especially online, we are able to see the new trends, inspired by ethnic patterns and cuts. Especially young designers experiment with fashion. They are not necessarily trained in tailoring but they are given the chance to display their creative designs. I have in mind, Yassin Morabit from Casablanca who is a self-taught fashion designer. He creates wearable and non-wearable cloths and his artistic expression emphasizes the importance of the non-commercial character of fashion. To me, this is an important aspect of fashion.
Joanna: Garments have always played an important role, regarding the expression of belonging to different cultural circles, various confessions and communities. When I think of kippa in Judaism or different forms of veils in Arabic countries and Arab communities worldwide, they are a strong statement. Do people in Morocco face any consequences of showing their cultural belonging?
Meryem: I would say that wearing a Kaftan is a symbol of pride in Morocco. For long time it has been successful at communicating the image of prestige. The issue here is that the representation of Morocco is not that diverse when we limit the perception only to this one piece of garment. It does not represent the actual diversity of the country. There are many other ethnic groups that cannot identify with the kaftan so there must be more space for those who are underrepresented.
Joanna: Can you recall any moment of your life when you started to be really passionate about this theme?
Meryem: Well, it started really early. When I returned from the middle school, every day I was drawing, I took magazines and copied designs. Since then I have known what I wanted to do. The fashion I was exposed to was "Western" so I was very influenced by that. And then, growing older I wanted to pursue a degree in design but I could not as fashion education is not free in Morocco. I decided to learn crafts by myself and to persue the academic career in another field. I learned crafting from my grandmother and then I came up with an idea to use the knitting technic to make swimming suits, which was very surprising for many people.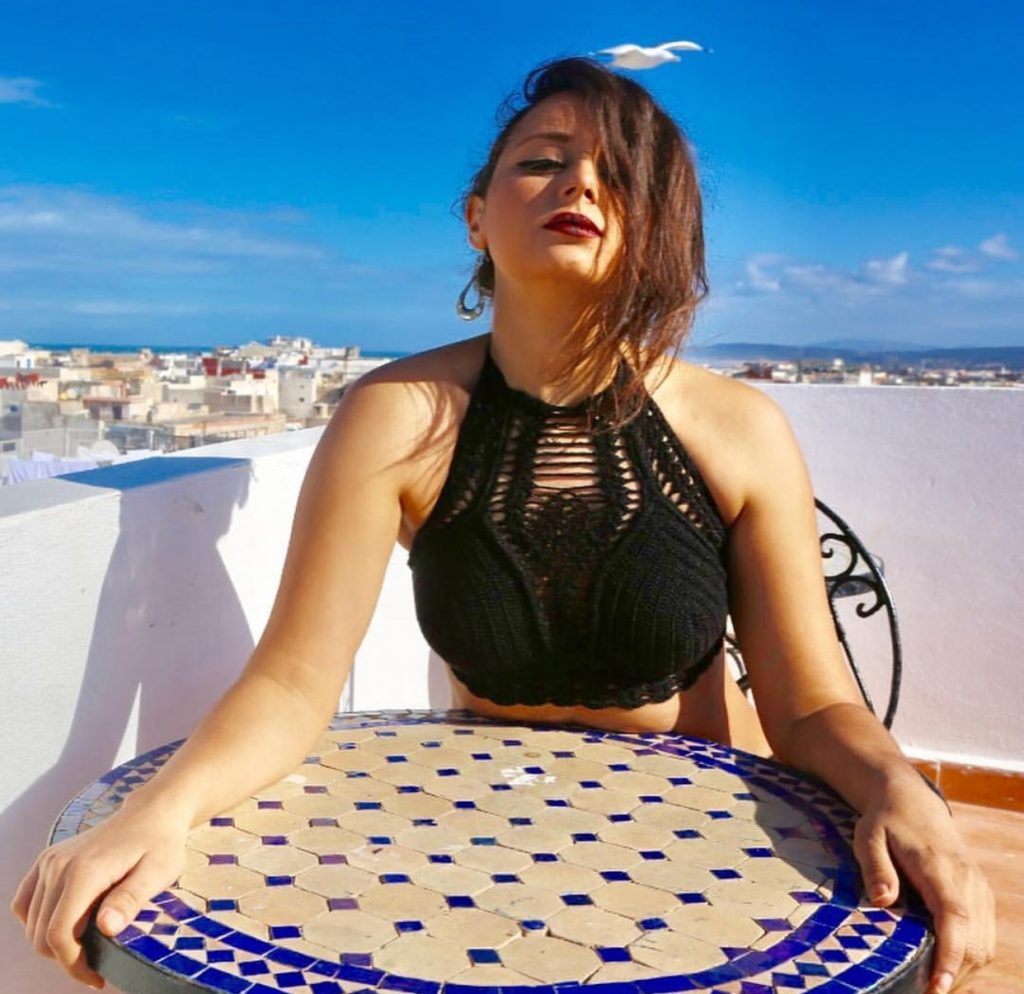 Joanna: Yes, I saw your bikini yesterday and it was amazing! It was something completely new. I loved it!
Meryem: Thank you! It is also the way I address "body positivity". The idea is to customize my swimming suits to the size of a person. It is something that is lacking in the industry and that is something that gives comfort to the people. I can have a conversation with the person I want to make it for.
Joanna: With this beautiful message you are advocating women' empowerment as well.
Meryem: Yes, in Morocco women do not know how strong, beautiful and diverse they are. They try to conform to Western standards. Actually, I was one of these women who worried about their weight until I realized that accepting who I am, how I am empowers me to fight for this cause. I believe that fashion can make women feel more empowered and contribute to the change of perception.
Joanna: It reminds of a very interesting exhibition I had a chance to see in Berlin, at the Jewish Museum. It focused on the history and tradition of wearing veils in different cultures. What I primarily learned there is the insight that additionaly to the religious aspects, it is also a question of a generation. Currently, when we hear about women wearing veils, most of us automatically think of women from Arabic families. I still remember my great grandmother who wore the veil when she went to the church. Isn't it a simplification to think of covering the head as a symbol of belonging to this or that religion?
Meryem: I think we need to broaden our perspective and not to reduce people to the clothes they wear. In Morocco, hijab is not mandatory for women. It is a choice. It is a cultural decision, not nesessarily a religious one.
Joanna: What is your biggest wish for the future for your generation, for the upcoming generations in terms of communicating own cultural identity with fashion?
Meryem: It is a big dream that I have for women that everyone has got equal opportunity to have access to the artistic field, such as design and other artistic fields and be more present in the creative industry to express who they are and not to conform. I advocate for women to have freedom of expression. That they are not so concerned about what people might think. In my country the reputation is a very important issue and I know how important it is to empower women to express their identities.
Many thanks to Marouane (left in the picture) for the valuable support.