The idea of "One Word Stories" got its shape at the end of last year when I looked back at a challenging time and realized how meaningful conversations made a difference in my case. When the world stood still, and I could not travel and visit the world, I decided to invite the world to my room. The exchange with people from different corners of the world distracted me from the struggles, served as wonderful sources of inspiration, and above all, spread hope and invited perspective change. They were an elixir of wellbeing and source of resilience.
And so, the idea was born to ask my co-travellers through these uncertain times to share a word that helped them mostly in these tough days and a story behind. This idea gave the title to the mosaic of inspirational conversations with artists, story activists, change agents, narrative coaches, theatre makers, diversity & inclusion professionals, global leaders as well as intercultural educators who are driven by passion and want to make difference.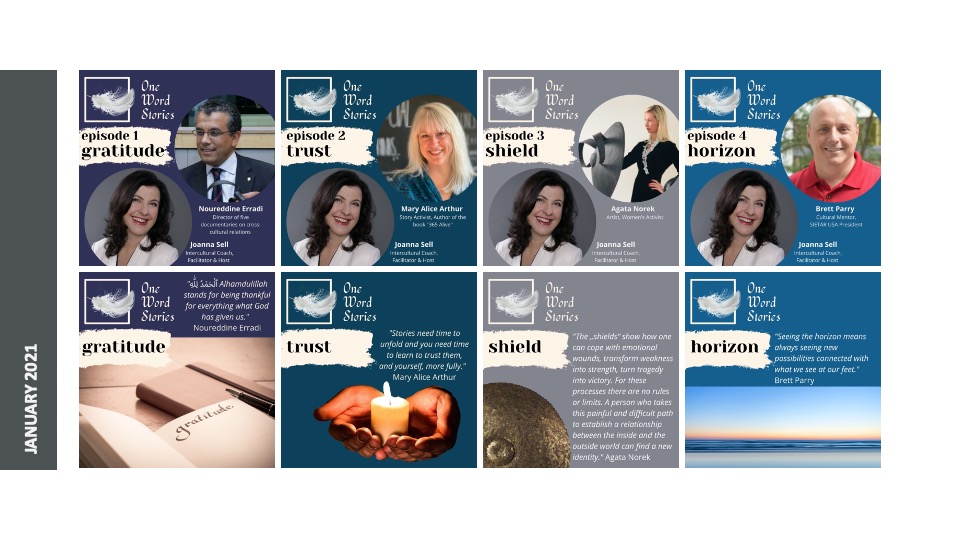 My very first guest, director of five documentaries and a dear friend of mine, Noureddine Erradi,ْ "ٱل َح ْمدُ ِmentioned in our exchange the word Alhamdulillah that stands for gratitude for everything what is happening and that way expanded the possibilities of perception of feeling grateful. Further powerful words in different languages followed and stories from all over the world filled the virtual space I had a chance and honor to create with my precious guests. Because of the one word stories, you have the chance to get to know my guests better way and find inspirations how resilience, perseverance, continuity, oluyia, self-care, pause, wonder, kindness, shields, and many more can transform your life.
As all of my guests, are unique storytellers and professionals who devote their time and energy to work with stories to create spaces of intercultural mutual understanding, where diversity and inclusion are valued and cherished, you are also going to hear how you can work with storytelling and storylistening practices to contribute to co-creating better futures.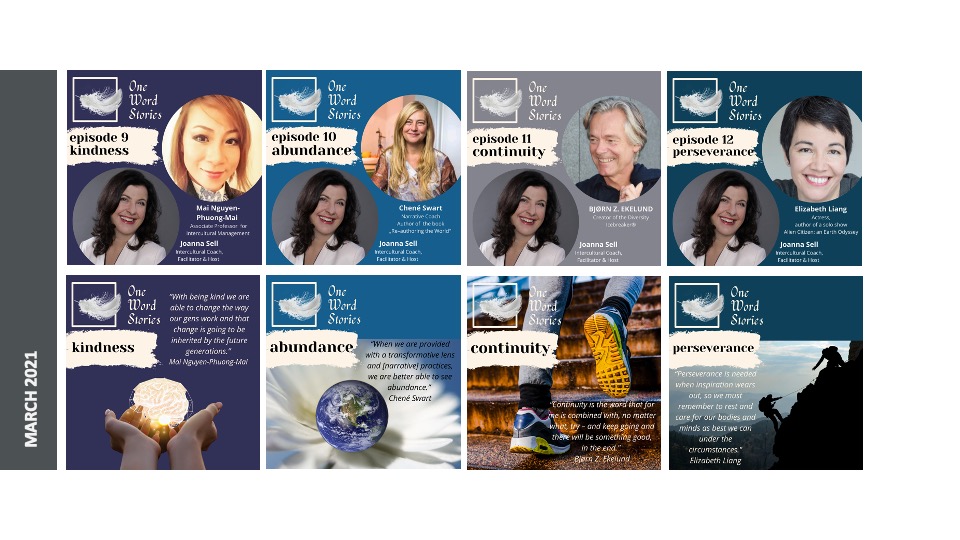 Future is not a space that we enter but a space we co-create. Our stories matter and they can help us to develop resilience and co-create futures filled with hope, trust and acknowledgement of the values of diversity and inclusion.
I am tremendously grateful for the possibility to virtually travel to the USA, Australia, India, Kenia, Canada, Vietnam, Greece, France, Poland, Germany, South Africa, Norway, Israel, Bulgaria and Morocco and to dive into the conversations on various aspects of the transformational power of working with stories to enhance mutual understanding across cultures and create spaces where diversity and inclusion are not just a mere wish.